Module One For Men
Would you like to be able to access deeper levels of passion and excitement?
Do  you find it hard to identify what you're feeling? Or if you're feeling anything?
Would being able to articulate a larger range of emotions be helpful in your relationships?
Did your partner send you info about this group with a not-so-gentle nudge?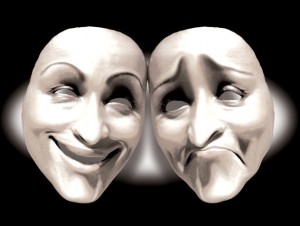 If you answered yes to any of these and are ready to do something about it, then read on.
Men in our society often keep our feelings hidden – or don't know what they are to begin with. These attitudes started when we were young – we were told in many subtle and overt ways to "be a man." This usually meant that one shouldn't show feelings, let anything affect you, or rely on anyone. But we miss out on so much when we deny ourselves the full range of emotional experience.
In this group for men we meet four times in one month. We'll cover the four different core emotions: Anger, Sadness, Joy and Fear. We'll explore how each one can be used, and how each has affected us in good ways and bad ways. We'll learn the connection between the physical sensations that exist in our bodies and the emotions. We'll cultivate the ability to feel and share our emotions, instead of distancing ourselves from them. We'll also work on identifying emotions in other people.
We'll use mindfulness, psycho-education, somatics, solution-focused techniques, group work and journaling to explore these issues in a safe, fun and effective manner. While our goal is to get to know ourselves better, you will likely find that the ability to know and communicate your internal feeling states will positively affect your relationships with everyone in your life.
Contact Alexander at 415.504.2787 today to register.
Dates/Times:
Tuesday, May 26, 2015, 7:15pm-9:15pm
Tuesday, June 2, 2015, 7:15pm-9:15pm
Tuesday, June 9, 2015, 7:15pm-9:15pm
Tuesday, June 16, 2015, 7:15pm-9:15pm
It is highly recommended that you attend all four meetings, but if you have to miss one we can accommodate you.
Location: XY Counseling – 2229 Santa Clara Ave, Suite B, Alameda, CA. (Parking and entrance in back of building)
Cost: $200 for all four meetings paid in advance. Because I believe so deeply in the value of this work, I'm keeping the cost down to make this accessible to as many men as possible. If cost is an issue, please contact me – I have a limited number of sliding scale spots.
Size: Space is limited to only 6 participants! Enroll Now.
Ages: This group is open to men 18-108 – it's never too early to start and never too late to learn!
Contact Alexander at 415.504.2787 today to see if this group is right for you.
Facebook event here.
XY Counseling specializes in working with men, teens and couples. Alexander Warnow started XY Counseling because he saw a need for men and boys to be supported by other men. Alexander Warnow is a MFT Registered Intern # 65161 supervised by Peter Wright, LMFT #38747